What is a Managed Services Provider (MSP)
Complexity is one of the main variables that makes CyberSecurity so hard to handle. But it is not just that. Once you add interconnectivity and constant change to the equation, it is easy to see the matrix and understand why cybersecurity is not as simple as locking your doors and windows and setting up a motion alarm before leaving the office.
It is a matter of fact that, with all the incredible—and undeniable—benefits that digital technologies have brought to our businesses, they have also got a level of sophistication that only highly-skilled, specialized, and dedicated teams can manage securely. Cybercriminals understand this very well, and they have built profitable cybercrime businesses around the world leveraging weaknesses in technology implementations, configurations, and security postures to make money. Unfortunately, when they succeed, our businesses lose.
As much as we all want to believe there is that "one" (or maybe even a few) technological solutions (s) that can make our business un-hackable, for the time being, this is just wishful thinking. A large and complex human team that stays on top of all of the cyber threats the business faces, takes advantage of the latest threat intelligence, employs and manages technological solutions for every element of their business infrastructure, and is the only way to stay safe and ready react.
For those businesses that can neither develop nor afford such a team, fortunately, there is a solution: Managed Service Providers (MSPs.)
What are MSPs?
There are many business activities outside of cybersecurity that organizations have to engage in. Sometimes, it makes better sense to leverage a combination of technologies and business services to help manage them more effectively and efficiently. Complexity requires specialization. Teams that are well equipped and prepared for their specialized tasks can focus, act, and deliver fast and effectively. They excel at what they do and bring the kind of Return On Investment (ROI) that businesses of all sizes need. Some outsourced services include accounting, payroll, legal, marketing, web design, and press relations. Organizations that provide these services typically fall under the category of Managed Service Providers (MSPs)
Of course, another more recent example can be found in information technology and information security services. As businesses grapple with growing their business on the back of IT systems and applications, it should come as no surprise that outsourced IT and CyberSecurity services would be welcomed by many.
What Do MSPs Actually Do for a Business?
There's a lot to manage when it comes to IT devices (desktops, laptops, servers, tablets, phones, printers, etc.) and applications (email, document storage, customer relationship management, etc.). Some of these systems may reside on the employees' desks, others in the office inside a server room, and others stored offsite for redundancy purposes. Some applications may run directly on the systems you own, while others may reside in the cloud, accessible through an app or a browser.
While many organizations may look similar for many core business functions (such as payroll and email), no two organizations will look identical when it comes to their IT infrastructure and the implementation of the technology used to manage their team, partners, and the business. This is namely because of the business's differences: the product/service offered, target market, age of the company, size of the company, investments, and profitability, to mention a few.
IT security is the business of managing risk and complexity — and, because there is so much to worry about, many organizations both small and large need and can benefit from a partner they can trust to help them with:
• Device and application setup and configuration
• Data and system protection
• Risk assessment and mitigation
• Threat monitoring
• Attack and breach detection
• Security event management and incident response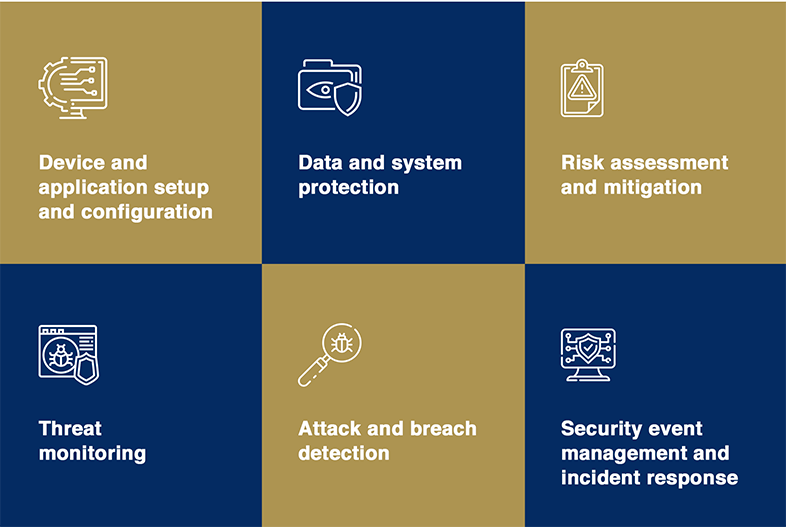 How Does a Managed Service Provider Help A Business?
It is quite simple, really — if your business provides security services to the market, you probably do not need to outsource this business component. However, if your company operates in any other market segment (even within the broad, non-security-specific IT space), then outsourcing some or all of your IT security to a trusted partner is something that should be considered seriously. You need to prioritize and focus on other things as you manufacture and distribute your products to your customers; information security should support those efforts and not get in the way of you working toward your business' vision, mission, and objectives.
By partnering with the right MSP, your team and your business can:
- Free up resources for other business needs
- Leverage experts with current knowledge of risk, threats, and recent/active attacks to protect the company, the systems, and the data from loss or theft
- Leverage experts with current knowledge of commercial and custom IT infrastructure and related business operations to ensure the proper functioning of the environment so you can realize your business objectives
- Translate the technical elements of IT to the business so you can build trust with your customer, partners, and investors
- Demonstrate return on investment in security as a means to not only show how revenue is being protected but also how the top line is secured as well
This may make a lot of sense to you now. However, it may still sound overwhelming to many. In both cases, there is value in having at least one conversation with a few MSPs to determine the role they can play in ensuring success for your business while also protecting it from the IT and cybersecurity risks it faces.
Once you realize that your business needs a valuable security partner, they will likely determine the best way to start by identifying what IT systems you are using and explore how well they are being managed, configured, maintained, and secured.
• Are your desktop systems up-to-date?
• Do you have the latest application patches in place?
• Are your remote workers connecting securely to your business systems and applications?
• Are you managing user identities and passwords adequately?
• Are you meeting some or all of the industry standards or government legal requirements you must abide by?
• Do you know if you've been compromised, and if so, how bad the breach is?
There have been numerous questions posed in this blog. If you lack answers for some or all of them, then a Managed Service Provider could be the partner you need to get the ball rolling. To connect with our team to assess your IT and cybersecurity infrastructure's status and posture, feel free to connect with us here.
Be sure to stay tuned for more from this series as we take a deeper dive into the business benefits of working with a MSP and how the engagement with a MSP works.